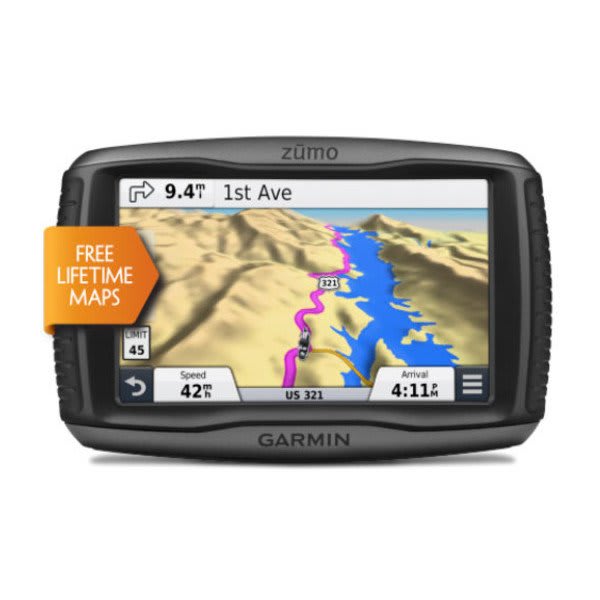 zūmo 590LM is a 5-inch dual-orientation touchscreen display GPS for motorcycles that is glove-friendly and sunlight-readable.

www.garmin.com
*In good working order, and designed for Motorcycling, Gloved Fingers, and Waterproof. This served me flawlessly for the past 7 years and thousands of miles.
Sold the Connie last year, and haven't gotten around to selling this, one of my last pieces of gear off the bike.
Comes with Cradle, all original wiring, and all you'll need to install it on your bike, + RAM mounts. I have also included a Cell Phone "Spider Cradle" on a RAM ball mount, as I no longer need either.
The Unit does not include all of the original packaging, because it was all too tediously wrapped, and compartmentalized, but i'd say 95% of all original wiring and mounting hardware is present, including the original install instruction. I'm only accounting for what I may have lost or forgotten along the way.
Full disclosure, the battery is small, and has never held a charge very long off the bike when not plugged into the cradle or power source, but works flawlessly when plugged in. I'm certain you can buy a replacement if off-bike navigation is in your repertoire - but I doubt it will hinder your use on bike.
I paid $800 new for this from Revzilla back in 2014. Never dropped, wrecked or struck by lightning!
I believe this unit has lifetime maps updates through Garmin, but you'll have to register yourself to get the OTA updates.
It is also capable of getting live weather and traffic updates with a paid subscription via Garmin, through your Smartphone b-t interface.
USB cable included (separate purchase) for connecting to a laptop for interfacing, or wall charging.
This unit integrated with my Sena 20S b/t headsets, has an onboard storage capacity of 32gb with SIM card installed, native Audio player, ability to interface with Pandora on screen with your phone, and MULTIPLE other function that make long trips in the saddle THAT much better!
Did you remember that it aids in Navigation as well??
THis is a must have device for Touring of any kind.
$350 shipped in the CONUS.
Zelle, Paypal, or Venmo accepted.
Please PM me with inquiries.
Last edited: