Hey folks,
I'd like to introduce Motorcycle Awareness Designs to the world!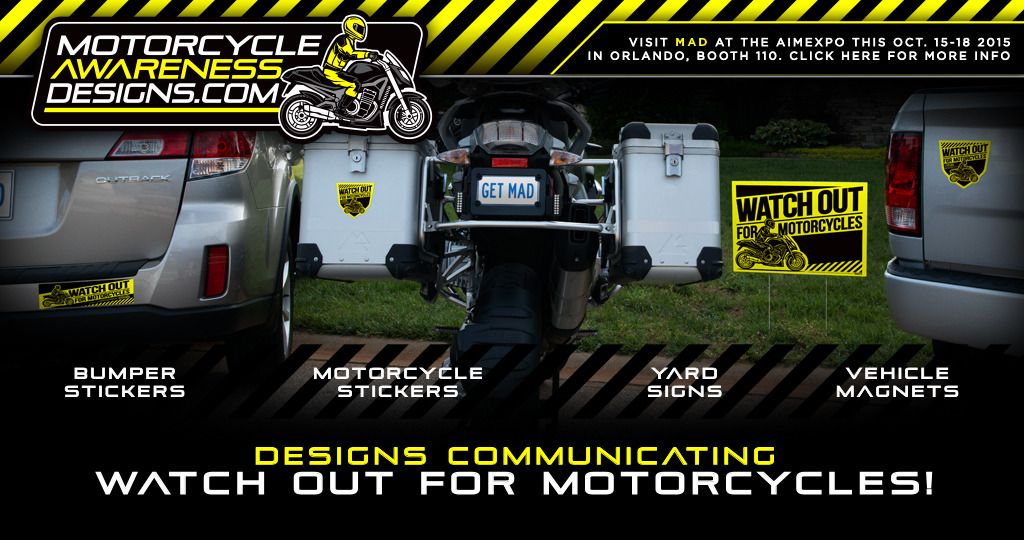 What is Motorcycle Awareness Designs? Well, it's bumper stickers, bike stickers, vehicle magnets, yard signs and shirts that say: Watch Out for Motorcycles!
As a graphic designer, I have been looking for additional ways to meld my passion for design and motorcycling and after a multimonth process in designing the product, creating the website and other marketing materials, it has led me to this point.
In the past several years, I have been stepping up my design work with more and more motorsport projects (for clubs and some BMW dealers close to me here in SC). And now I have turned one of my ideas into this new venture. I saw what was currently out there in the market and most of it was dedicated to the cruiser side of riding. With that in mind, I have presented my take on it. Bold graphics and easy to ready text with a modern but brand-nostic bike to cater to different riders.
After working with some of my riding buddies to refine the idea and make sure it was ready to market, inventory is ready to go after testing it out in the field and the site as well. So, please take a look at what is on the site and thanks in advance for your support. Also, please spread the word to your friends, both riders and non-riders, about Motorcycle Awareness Designs. More info on the ordering process and even discounts for non-profits is there as well.
http://motorcycleawarenessdesigns.com
And if you are in Orlando for the AIMExpo in October, stop by to see me at booth 110, next to the BMW Motorrad USA display. I'd love to meet you and say hi!
Chris