I used to COG with
my C10
a few years ago but sold it on and got into a KLX, then a Triumph Tiger, and then a 2nd gen Fireblade (last of the carbed 'Blades!).
A 2010 C14 came up with only 30k kms (18k miles) that an older fella had parked up in his shed a few years ago when it tipped over in a parking lot. Some surprisingly minimal scuffs on the bodywork and the windscreen wasn't moving, but otherwise it's barely broken in!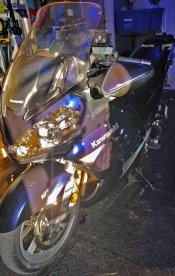 Got the windscreen assembly out on the weekend, cleaned up the motor and the connections and
it worked when I plugged it all back in again
. I'm currently battling a clutch that refuses to be bled.
Looking forward to getting to know the C14 better this summer and glad to be back on COG.
Tim