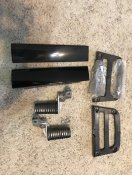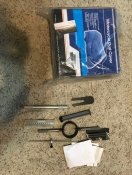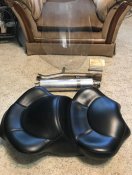 After 15 years and 4 different Concour I am trying something different for a while. I am staying here with COG but downgraded to a 650. Here are some things I found in the garage that need a good home.
I want to be fair so message me or reply with your story of how something shown here will change your life. You may get it for free.(+SH) Except the Russel, I expect a good battle for it. It may be a week before I can even reply to requests.
C10:
Pegs and peg lowers.SOLD
sorry
2004 side covers I think, black or very dark blue.
Tail pieces I think, two. One with bolts.
C14:
Russel Day Long, Two Up bliss. Has SN on the back. It was made for two larger people. Takes some getting use to but was great at 500+ miles. SOLD
Owners Manual.
OEM Throttle tube.
OEM Windshield.
Used Hole Shot pipe and tube. I can see right through the muffler so it has been violated. It sounded nice, and loud, as I remember.
Any Bike
Cartridge Fork disassembly tools. Used once on C14. SOLD
XXL bike cover still in the box wrapped in plastic.
Last edited: