SOLD  ;D
Just bought the Zumo XT so I would like to sell my Zumo 396 LMT that comes with the car mount which is $50 extra. I don't have the original box, wife threw it out, bless her heart  It will be attached to a ram mount base and ready to wire up.
All maps and software are up to date.
Here is a picture of it mounted on my Tuono The sunshade is NOT included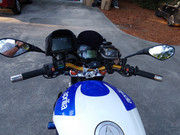 I am asking $206 shipped via UPS with a tracking number, in the lower 48.
I take paypal at cognosticator@yahoo.com